Preparing for the Grain Merchandising Inevitable: Part 2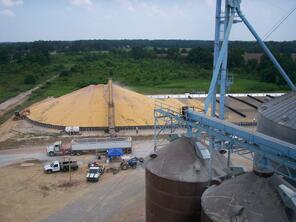 Planning with a Purpose
In order for your pre-season planning to be a truly meaningful exercise, it must be approached with the right frame of mind. You have to plan with a purpose. If planning is focused on putting precise numbers in the right box it is not likely to be of much use. But, if the objective is to provide information that will enable you to set goals and take action when opportunity presents itself, now you have a purpose!
Useful planning occurs in steps. The farther away you are from harvest the broader your objectives should be. The closer to harvest you get the more detailed and exact you can be with your goals.
In the pre-season -- the time before the crop is planted -- the idea of planning is to have some general goals in mind based on your typical grain merchandising patterns. In that way you can be on the lookout for opportunities to put the right pieces in place that will further your merchandising efforts in the coming year. There are three areas where a preliminary pre-season plan is particularly useful.
Securing favorable spreads. Every forward futures contract that is listed and trading presents spread opportunities. This means that you have the ability to set spreads a year or two prior to the marketing season. Why would you want to do that? Well, spreads fluctuate and there are times when an event of some sort occurs that creates a rare opportunity to set a spread at an attractive level. It may be a particularly good carry spread that will set you up to carry an anticipated long-the-position. Or, it could be a favorable sell spread that will set you up to be short-the-basis at some point in the coming season. Going into the season knowing that you have the right kind of spread structure in place to carry out your plans is a big step to consistent success!
Securing profitable sales. Sales are another area where opportunities to trade are available prior to harvest. Sometimes they are advertised bids from interested buyers. Sometimes they are privately negotiated transactions. Smart buyers know they can not wait to do all of their buying at the time they need the grain . . . forward planning is an integral part of their business too. For the elevator shopping for good sales early is the way to secure better margins and prepare logistics. Sure, you could wait until harvest to make back-to-back sales as you are forced to, but doesn't it make more sense to have some sales in place early on -- at a good basis -- on bushels you know you are going to have to move?
Securing appropriate financing. In today's environment, it's a bit naïve to presume your bank will be able to provide the financing you'll need when you get to harvest. Banks are tightening credit, setting more stringent standards and requiring more documentation and sometimes more collateral than they used to.
Although the elevator's need for financing may be fairly low or non-existent here prior to harvest, that will undoubtedly change. You're going to need to call on your banker again at some point. To insure you have their commitment it is absolutely necessary to keep the lines of communication open. Making it a habit of providing preliminary projections of your financing needs for the coming season goes a long way to making this happen.
Learn how you can create a solid grain merchandising plan. Click below for more info: