4 Ways to Enhance Your Grain Business with Training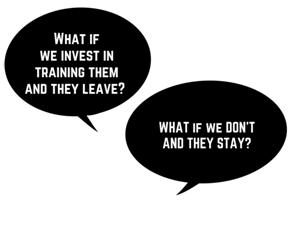 In the workplace, training and development can often be an overlooked or underutilized approach to improving business. Often the myth is that with significant skills training an employee might jump ship after having gained a new edge in the employment market.
However, as seen in the quote, what if that employee stays? How will your business suffer from the lack of initial or continued training? Here are four ways you can insure that you have the best trained staff and that your business is better because of it.
Encourage a Culture of Learning
In the grain business, the employee directory might have 1 or 100 names. It is important that as the leader of the organization you are first to engage in training and development that can benefit your business. Your willingness to be open to learning something new will set the tone in your organization. Take the time to seek out education and training that will help your employees be the best they can be in their positions. Your employees will feel valued that you want to invest the time and money into helping them expand their knowledge base and sharpen their skills.
Meetings for Networking and Problem Solving
One of the most effective ways to learn how to address challenges and issues in your own business is to talk to others that have been there before. Educational workshops provide an incredible opportunity for you and your employees to find a new perspective that you hadn't thought of before. Also, talking to others in the industry can sometimes act as a sounding board for the decisions you have made or are making. Sharing with others can give you a great boost of confidence in your decision making skills.
Back to the Books
Simply picking up and reading a book can be a fantastic support to training and development efforts. Books in the genre of professional development can provide a resource to attain skills that compliment the staples of basis, spreads and other merchandising topics. Look for topics that can help get the most from the more formal training you engage in. Are you a perpetual procrastinator? Could you manage your time better in your day to day job duties? Find books that can help you improve personally and you can reap the benefits professionally.
Learning Transfer
All of the knowledge consumption and training in the world is lost if you don't take action and put it to work. Be sure to come away from any educational course, meeting or reading with some clearly defined actions to put into place immediately. Turning your learning into action is the essential component for the biggest return on your investment.
If you are interested in working with us to customize a plan for training for your organization, please contact us today!