Explore. Grow. Thrive.
Together

.

White Commercial is a trusted advisor that specializes in helping elevator owners and cooperative leaders navigate every stage of their business lifecycle.

As a White Commercial customer, you benefit from our specialized futures brokerage services, focused exclusively on futures for commercial grain elevators. You'll also receive customer-specific merchandising support, continuing education and professional development.

When you join forces with White Commercial, you and your team gain access to more than 46 years of merchandising knowledge, educational excellence and a team of trusted advisors that guide you through your journey as you explore, grow and thrive.

Over the years we have developed the industry's most highly respected grain merchandising educational programs and materials. This vast array of resources includes year-round workshops, meetings and conferences, multi-level online courses and certifications and an extensive online merchandiser's Resource Center. These valuable resources are available only to White Commercial brokerage customers.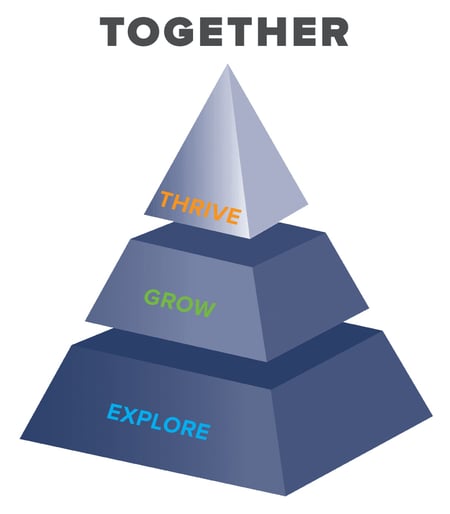 We call our three tiers of service and support Explore, Grow and Thrive. Each tier fits customers in various stages of their company's maturity. As your company succeeds and expands, our services support you at every stage of your journey.
Explore
All businesses need information and education. Within this specialty area, we support you with:
Specialized futures brokerage services
Experts to help identify opportunities in your trade area
Tools and training for all levels of staff
Assistance implementing disciplined routines and processes
Advice on creating meaningful and productive relationships with farmers
Help with identifying and achieving operational best practices
Local, regional and national workshops and conferences year-round for education and networking with the White Commercial family
---
Grow
Businesses actively engaged in growing may require help creating a dynamic workforce, developing leadership skills and expanding locations. For these companies, we offer assistance with:
Growing your margins
Guidance in planning and implementing yearly merchandising strategies
Basis analysis
Spread recommendations
Position management
Space utilization
Growing your business
Financial planning services with our on-staff finance specialist
Financial ratio analysis, financial statement projections, cash flow projections, borrowing base projections
Consultation with lenders
Consultations with CPAs, auditors and other members of your accounting team
Growing your customer base
Guidance in planning and presenting farm marketing meetings
Ongoing team building
Programs to strengthen your origination team's marketing knowledge and expertise
Online tools and calculators you can customize and make available to your customers
Farm Marketing Connections, an online resource where ideas are shared for improving customer relations
White Commercial customer relationship management (CRM) tools
Local, regional and national workshops and conferences scheduled year-round for education and networking with the White Commercial family
---
Thrive
Established companies require market specific information to make appropriate decisions, ideas for adding value to their local ag economy and preparing for a multi-generational operation. White Commercial supports companies at this stage of their life with:
Ongoing, region-appropriate market, basis and spread analysis
Seasonal merchandising planning and accountability tools
Strategic growth consultation
Ascension and succession consultations
Local, regional and national workshops and conferences year-round for education and networking with the White Commercial family