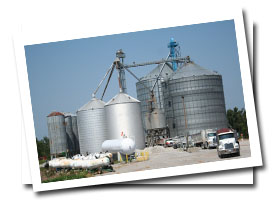 Phil and Malissia Abell and daughter Sarah Abell Tanner, Owner/Operators of Kevil Grain Company, have been in the grain business for 23 years, and a part of the White Commercial family since March of 1999.
In the early years they were 100% back-to-back grain traders, but always knew that there was more money to be made in the grain business. After attending a White Commercial grain merchandising workshop, they saw the first glimpses of just how much opportunity was available with the right training and guidance to take their business to the next level.
After becoming a White Commercial participant their business has grown considerably. They have expanded their storage capacity from 340,000 bushels to 1.4 million bushels, and handle approximately 4.8 millions bushels of corn, soybeans and wheat annually. They have also dramatically increased their grain margins from 2¢-6¢ a bushel to 30¢-40¢ per bushel through basis trading.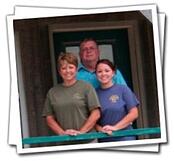 Malissia became a Certified Grain Merchant in June 2007, after completing the intense Grain Merchant Certification Course prepared and published by Sherry Lorton and White Commercial. This has allowed Kevil Grain's customers to come to trust and depend on her knowledge of marketing their grain. She contributes that trust to White Commercial's continued efforts to provide the tools needed to help the producer capture as much money possible year after year. It has been a growing process for Kevil Grain and the area farmers.
A personal note from Malissia:
There have been many changes in the grain market since our relationship began with White Commercial. I must say the one that that I am most impressed with (and I could name a few) is how White Commercial adapts with the changes. They are constantly updating and learning themselves, and passing that knowledge and marketing tools on us. They continually strive to present the most up to date marketing strategies and tools to help us stay competitive and successful in this era of merchandising.